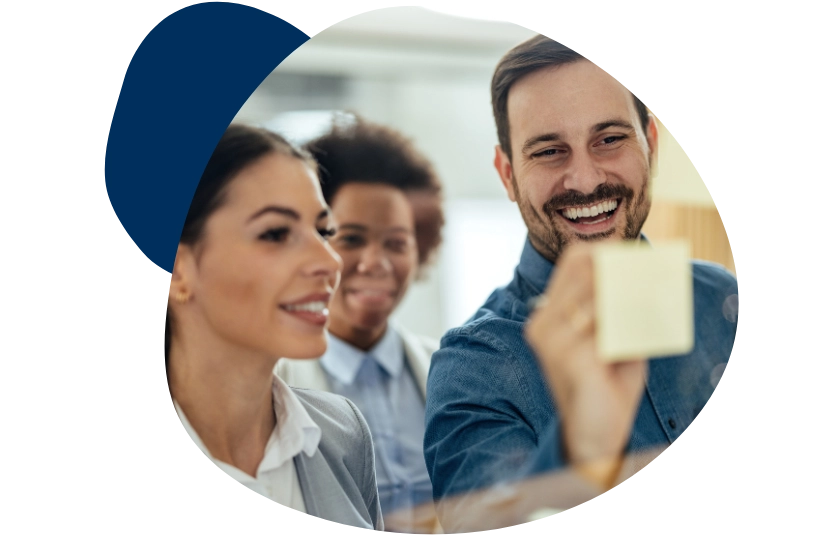 The Ultimate Guide to Building a Confluence Cloud Team Workspace
Tips, use cases, and powerful tools that can help you set up a successful cloud workspace.
What A Successful Team Workspace Looks Like
Team Workspace 101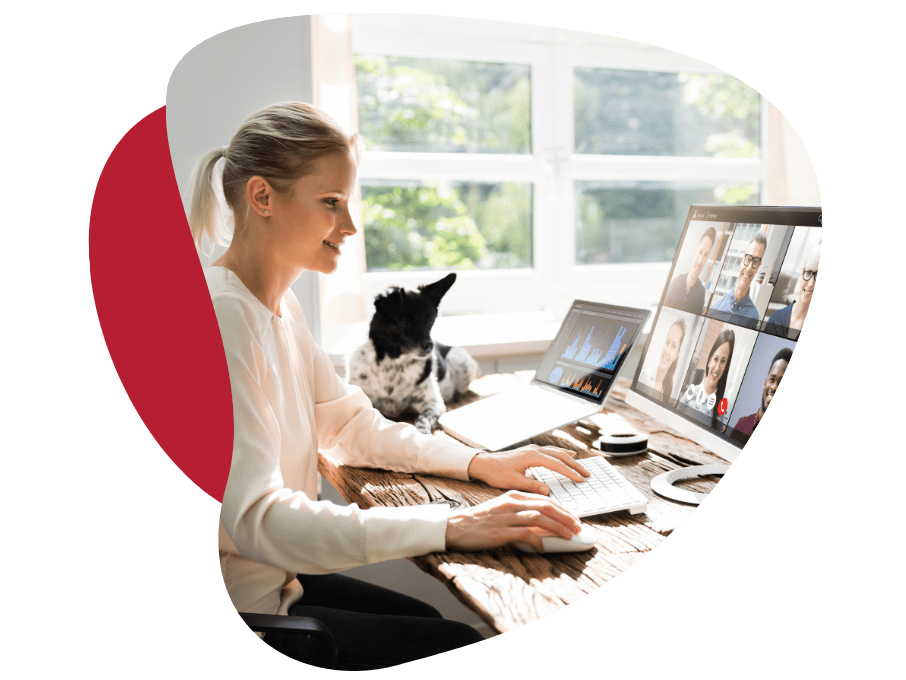 Confluence Cloud is one of the most favored collaboration tools in the market used by over 60,000 companies. The app can aptly support teams by allowing them to collaborate, engage, communicate, and work efficiently. It has become even more popular in the last year as businesses have been forced to adapt to remote working norms. However, out-of-the-box Confluence Cloud features may not be substantial enough if you want your company to survive upcoming uncertainties and your employees to stay ahead of the learning curve. This is where a team workspace comes in.
As the world moves forward and embraces a more digital and innovative workplace, businesses need to strive to create a more centralized, automated, and streamlined work environment. In other words, you need to configure Confluence Cloud to meet the needs of your organization as well as your employees. A team workspace goes beyond collaboration and engagement. It's a systematic virtual workspace that can support various areas of work – human resources, content, finance, marketing, software development, etc. – no matter where your employees are.
With businesses across the globe still struggling to settle into the new norm, a team workspace can help provide a sense of stability not just for your teams, but also for your business.
Understanding the Limitations of Confluence Cloud
While Confluence Cloud on its own can deliver a number of the functions mentioned above, there are notable aspects of the tool that are limited and can't deliver on the promise of a holistic team workspace.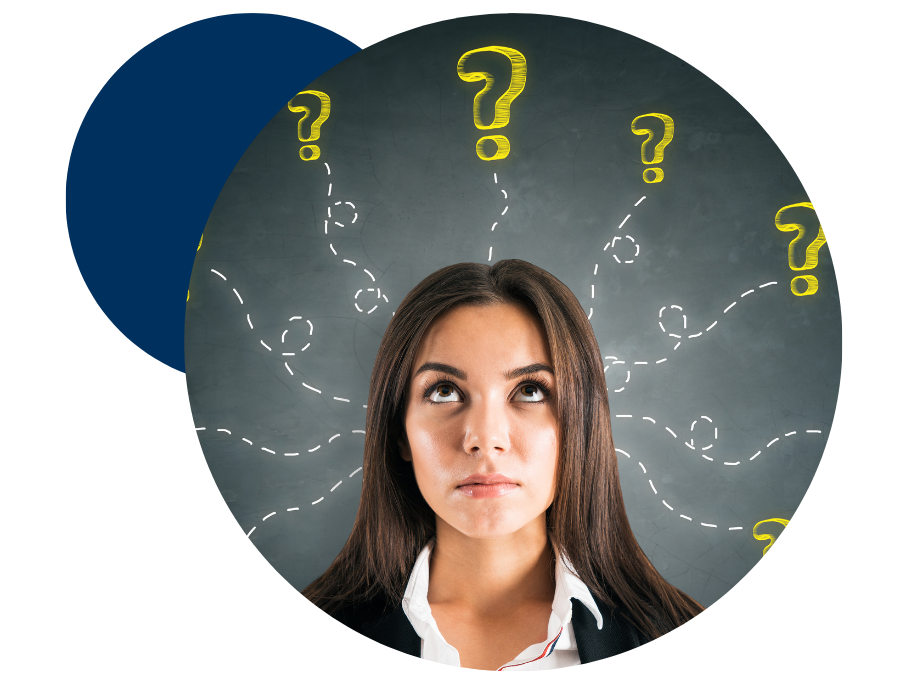 1. Metadata Management
Confluence Cloud lacks metadata management capabilities which are essential for robust content management. Basic organization capabilities exist, but as your knowledge base and number of users grow, content management becomes a dreaded task without proper metadata. Manually adding metadata to wiki pages is both tedious and error-prone. If users label content incorrectly (due to free-text label fields), the information might no longer be searchable.
2. User Information
It also falls short when it comes to conjuring up a more connected digital working environment. Employees may not be aware of new hires or specific field experts in the organization because Confluence Cloud's basic user profiles don't have fields that display that information. It doesn't help that user information has to be updated manually.
3. User Experience
On a more important note, to create a powerful team workspace loved by your employees, you need to be able to deliver a Confluence Cloud that is easy to use (important for new hires) and to some extent, personalized based on their roles. Confluence Cloud on its own doesn't necessarily have the macros that allow personalization features.
These are just some of the major limitations that could directly hinder the possibility of achieving a highly usable team workspace. So, how can you address them?
Creating a Robust and Powerful Team Workspace
It pays to invest in capabilities that will not only elevate the experience of your Confluence Cloud users, but also meet the needs of your business.
Always try to make it easy for employees to work and to have more structured processes.
When you have a robust and powerful team workspace, you can expect greater productivity and performance from your employees.
Here are some apps that could help you significantly expand the capabilities of your Confluence Cloud: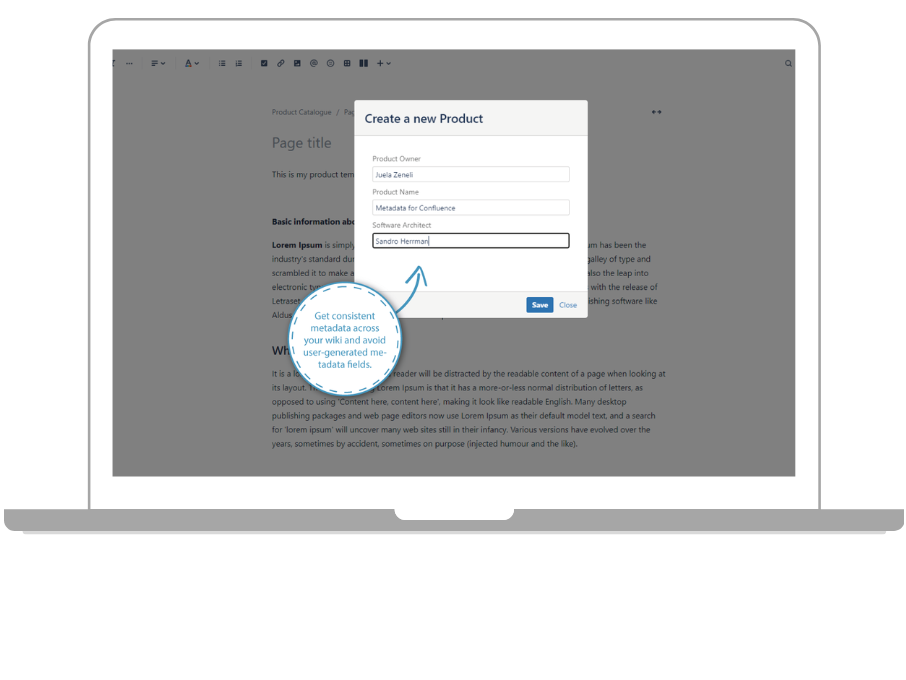 Metadata for Confluence Cloud
Organize your content like a pro and deliver a highly navigable team workspace
Whether you're building your knowledge base, creating new documentation, or consolidating information, you need an automated and systematic way to keep your content organized.
Proper metadata application can improve content searchability, accessibility, distribution, and life-cycle management.
With Metadata for Confluence Cloud, space admins have the capability to set predefined values for metadata to eliminate error-prone, manual data entry. Users can select the most appropriate metadata values when they create new pages to help give content structure.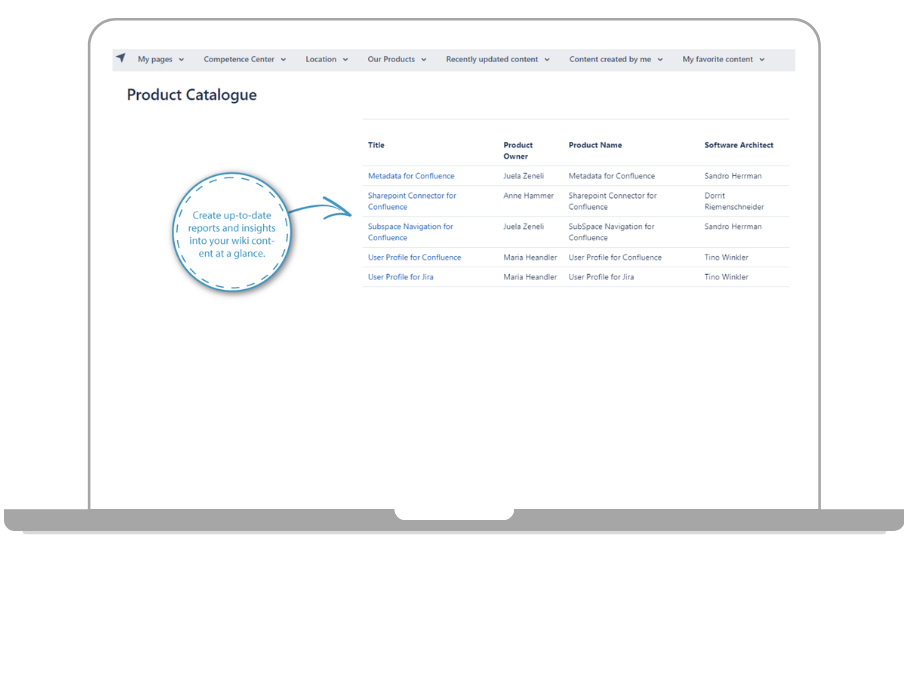 Pull information from pages and give context to your content by quickly creating an overview table.
Connect your team to institutional information and allow collaborative work in real-time.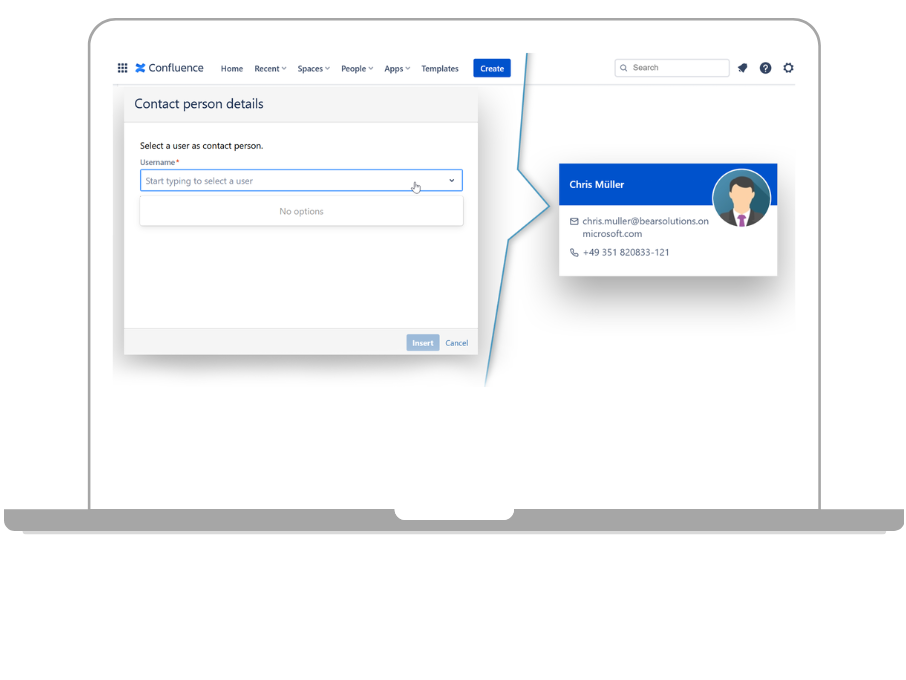 User Profiles for Confluence Cloud
Create a powerful directory to improve collaboration and link team members to the right experts to improve communication
The basic Confluence Cloud user profiles don't tell employees much about their coworkers, and that's going to limit them from truly knowing who to address when they have questions or concerns.
User Profiles for Confluence Cloud enables the enhancement of profiles with new fields like location and expertise. Not to mention, you can easily add a contact person macro to a page to showcase the colleagues in charge of a topic and make contacting them fast and convenient.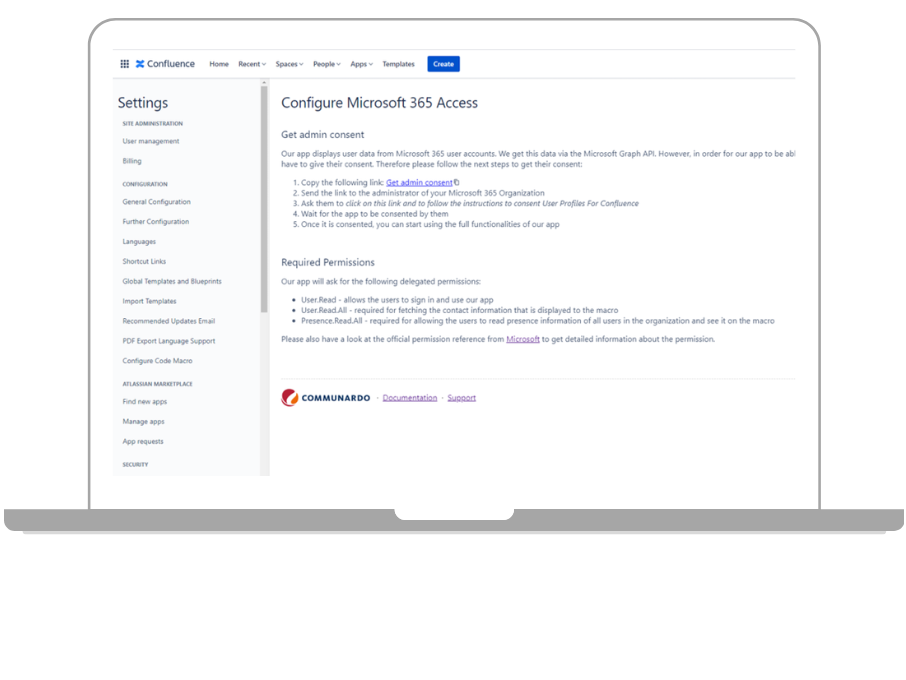 You can be sure that profile pictures, email-addresses and phone numbers will always be up-to-date when you connect and display user profile information from Microsoft 365. You will also enable employees to identify and reach their target contact person using click-to-call and links to Microsoft Teams or Skype for Business.
With built-in macros, organizational charts, telephone directories, expert lists, and more can be created effortlessly. Gain the ability to synchronize profiles with your LDAP/Active Directory to ensure that they're complete and up-to-date.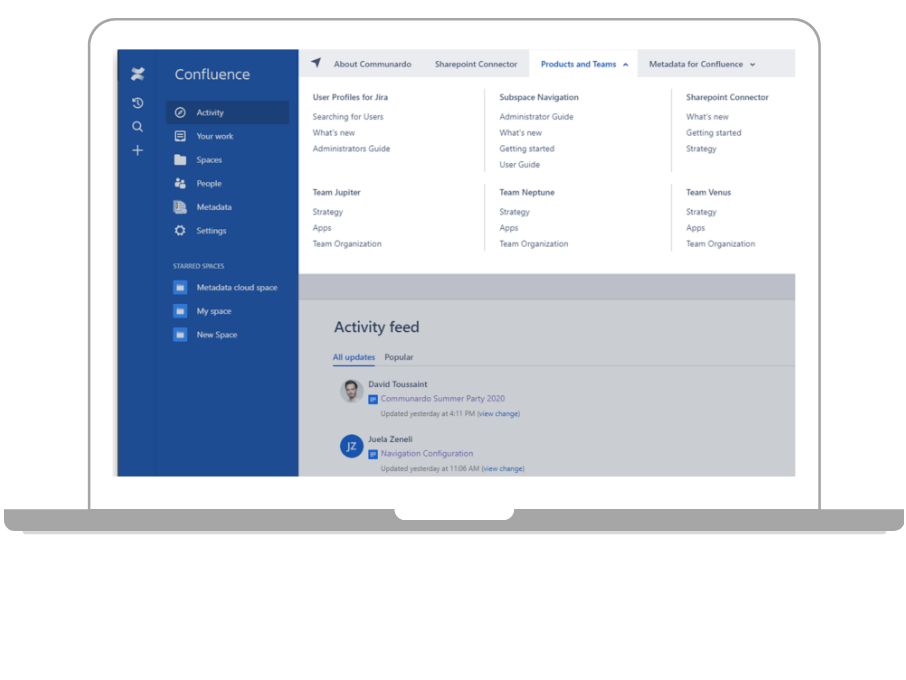 SubSpace Navigation for Confluence Cloud
Create personalized menus by using CQL to adjust tabs based on user profile information and metadata
If you want to improve productivity and user experience, the simplest thing you can do is to provide a custom, top-level menu to help teams find the content they need quickly and easily. This is because Confluence Cloud out-of-box navigation isn't the most helpful because it could take a lot of clicks and screens just to get to the page that you want.
SubSpace Navigation for Confluence Cloud makes it easy for admins to arrange wiki content – spaces, pages, folders, blog posts, external links, folders, and CQL queries – quickly and effectively into a centralized navigation menu. Using the drag-and-drop feature, admins can arrange navigation elements into any relevant order.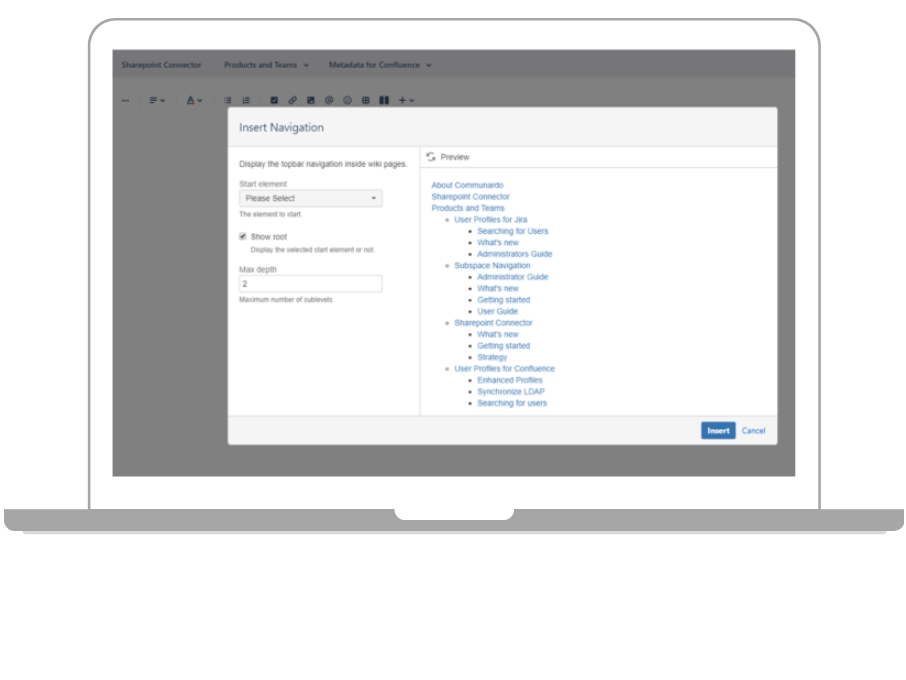 You can also use the navigation macro to create overviews of the menu (or parts of it) within a Confluence page or a blog post. This will give employees a more dynamic view of the content that they are accessing. With a simple click, they can quickly get to the information that they need.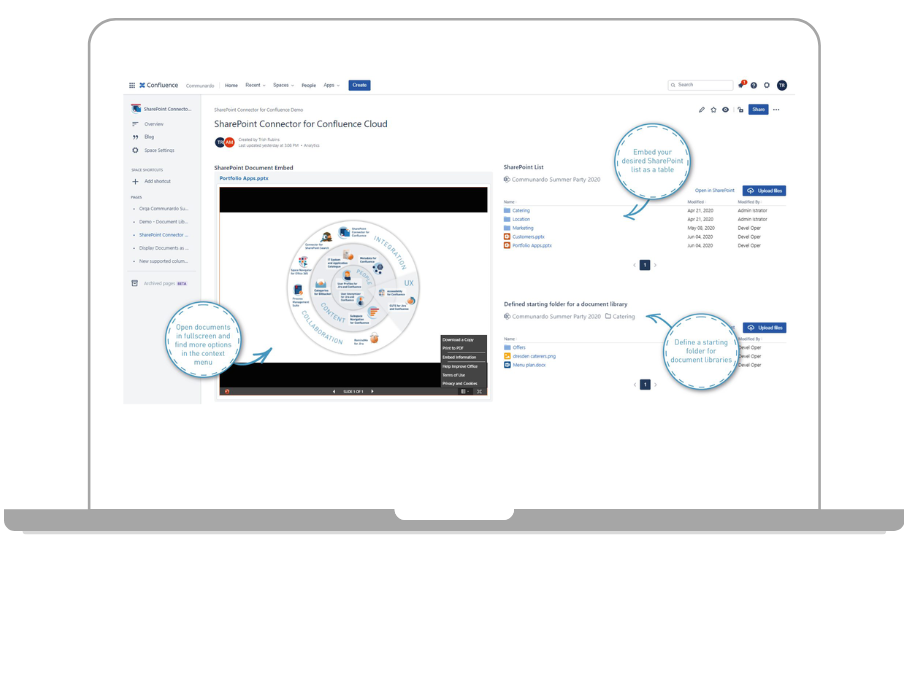 SharePoint Connector for Confluence Cloud
Remove silos and bridge team members residing outside of Confluence
If you're leveraging Confluence for a group of employees and using SharePoint for the others, then you know it gets difficult when these two groups need to collaborate with each other. Since the two platforms were not designed to work with one another, employees may resort to sharing information and ideas over private channels which make it difficult to track work.
SharePoint Connector for Confluence Cloud helps you close the digital divide between Confluence and SharePoint/OneDrive for Business by enabling a seamless integration between the two platforms. Remove siloes by giving your employees the power to do this:

Instantly embed, share and edit SharePoint documents directly from Confluence

Embed a list or document library from SharePoint to allow file browsing from within a Confluence page

Upload files to SharePoint directly from Confluence
Embed Confluence Cloud pages in SharePoint using the included "Confluence Content" web feature. This integration ensures that content is always up to date on both platforms.​
Empower teams to collaborate effectively and cultivate transparency when sharing institutional information. It's important that you make it easy for your teams to do their job so that they remain engaged and motivated.
Empowering Your Team Workspace with Innovative Use Cases
Go above and beyond with these use cases to elevate how your team workspace functions. All you have to do is mix two or more of the above apps together to achieve new capabilities.
Delivering a workspace that your team will love
The ultimate guide to building a confluence cloud team workspace
Tips, use cases, and powerful tools that can help you set up a successful cloud workspace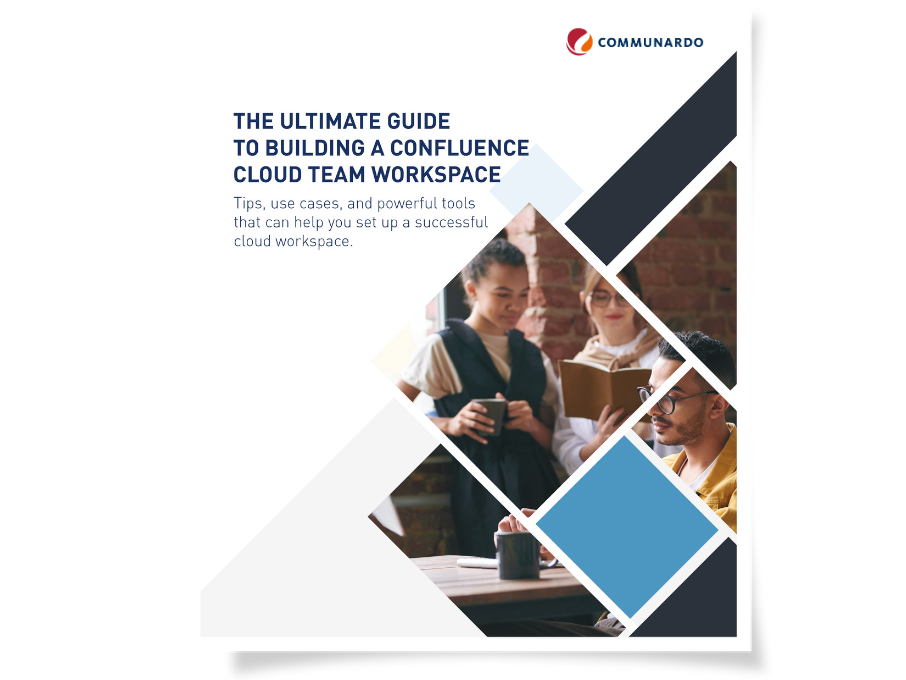 The shift to remote working has forced organizations to address underlying problems that they've previously ignored, like poor collaboration processes, siloed communication, outdated technology stacks, and weak data security.
All these issues have pushed organizations to leverage a collaboration tool like Con-fluence Cloud which can aptly support teams by allowing them to collaborate, engage, communicate, and work efficiently.
Given the wide capabilities that Confluence Cloud offers, it's no surprise that more than 60,000 companies choose to deploy the tool.
However, many are unaware of how to fully take advantage of Confluence Cloud to develop a significantly powerful,robust team workspace – this guide will help you achieve just that!
Do you have further questions regarding this topic or one of our apps?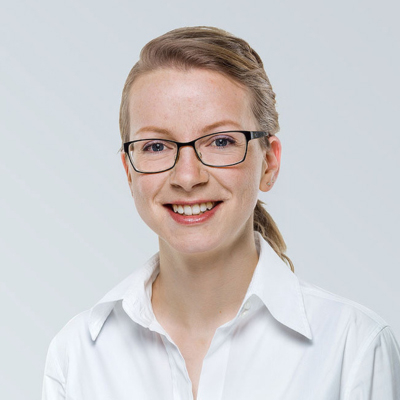 Your contact person
Franziska Wende
Team Lead Product Marketing & Sales
Kleiststraße 10a, 01129 Dresden

Tel:

+49 351 850 33 257