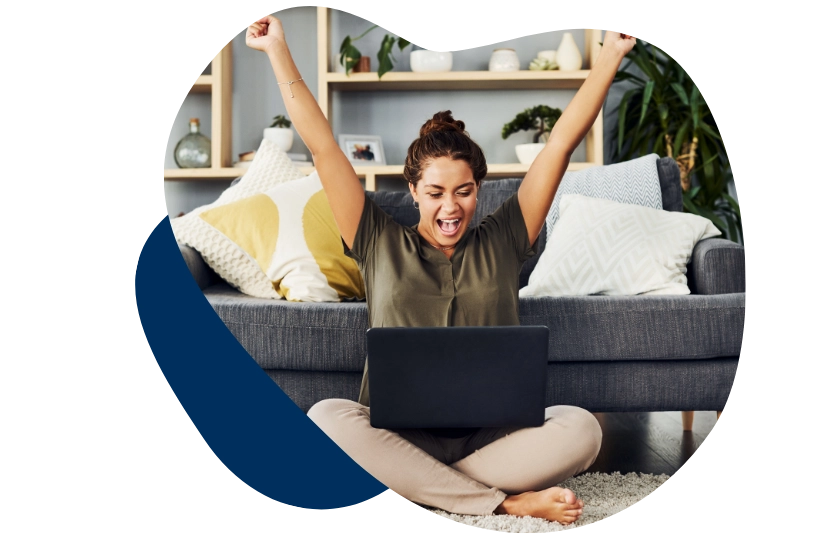 FAQ & Application advices
Here you will find the most important questions and answers about the application process and your start at Communardo!
The job advertisements on our homepage are always up to date. Usually there are no application deadlines. Jobs that we have filled are immediately removed from the career website. Minimal overlap periods may of course occur in exceptional cases. Then you will be informed immediately.
If you have not found a suitable position among the current vacancies, you are of course also welcome to send us an unsolicited application. Please simply use this application form.
When applying for a job, you should make sure that the majority of the requirements specified in the job posting are covered by your resume. If requirements are prefixed with words such as "at best", they do not represent a mandatory requirement.
We only accept digital applications. You can apply via our link to the application form, which you will find under the respective job advertisement or on the overview page. Please fill out the application form and upload your attachments in PDF format. We appreciate applications that reach us as one coherent PDF file, but multiple attachments are also possible.
In case of technical problems, you can of course also send your application by e-mail to personal@communardo.de.
From your application documents, we would like to see what previous experience you bring to the respective position. Present yourself authentically, competently, motivated and enthusiastic. In addition to your resume, enclosed references/job references/certificates etc. provide a good overview of your skills and knowledge. A cover letter can be helpful to describe your motivation in advance and to comment on your experiences - but it is not a must!
You can upload up to 4 PDF files, each file can be up to 4 MB in size.
You can always address your application to the HR department, specifically to Verena Schumann-Mühl (Head of Human Resources) for permanent positions, to Julia Kullmann for apprenticeships, internships and dual studies, and to Anne-Sophie Graf for positions as a working student. We will be happy to answer any questions you may have about the application process.
After completion of the application process, your application documents remain stored in our system for 3 months. Then they will be deleted in accordance with GDPR. If we are currently unable to hire you, but can imagine hiring you at a later date, we will ask you for permission to store your data for 12 months. Only if you agree to this process, the extended data storage will take place.
Each time an application is successfully sent, the sender receives a confirmation e-mail to the address provided. If you do not receive this, your application has not been successfully submitted.
First working day: Approximately 1-2 weeks before your first working day, you will receive an e-mail from us with information about your first working day. The day begins with an introduction to organizational topics by the HR and IT departments. Afterwards, your coach and buddy will take over the technical supervision as well as the support of your social integration into the team.
Dress code: Let's put it this way.... a day in the Communardo company building without appointments with customers, partners or the like, no dress code is prescribed. The majority wears casual and sporty clothes, so that feeling comfortable is guaranteed. Of course, we assume that you dress according to your function and the occasion when you have appointments with external people.
What do we offer you? In addition to a pleasant working atmosphere with awesome colleagues, modern work equipment and a focus on work-life balance, we enable you to develop your personal career plan in order to offer you a long-term perspective at Communardo. For this purpose, we organize training tailored to your needs, and enable you to acquire certifications or participate in congresses.
You will get a market-oriented and performance-based monthly salary with transparent career prospects, and for managers there is an additional target-based variable compensation. For very special achievements, there is also the possibility of receiving bonuses and a profit share for everyone!
Team budgets can be used to plan trainings, team events and other team wishes.
And now something very special:
You can compile your own personal benefit package in the benefit configurator. You will be provided with a budget that can be used for a wide range of benefits. Sports, meals, preventive care, kindergarten allowance, Netflix account and many more ... Put together what makes you the happiest!
Feedback: We live a strong feedback culture at Communardo. All employees have several fixed discussions with their own manager throughout the year - development discussion on personal and professional development, salary discussion (where do I stand, where do I want to go?) as well as other feedback discussions on their own motivation and goals. The entire Communardo working day lives from constant, mutual support and a strong team spirit.
The graphic below represents our application process for applicants for permanent positions:
Application process
Application

After your application has successfully reached our system, you will receive a confirmation by e-mail.

Review

The processing of your application will probably take between 2 and 7 working days. As soon as there is news, we will inform you immediately.

1st interview

Afterwards we invite you to a first interview with 2 named colleagues. This usually takes place via video conference (Microsoft Teams) or in rare cases at one of our locations. Here, your likeable personality, as well as your professional enthusiasm and your competence are in demand.

2nd interview

If all of us think we are a great fit for each other after the first interview, you will receive an invitation to a further interview quite soon, which usually takes place at the respective location. At this appointment, you will also be shown the office rooms and, if possible, you will already get to know members of the team.

Decision

Our internal evaluation rounds take place on the Friday after the second interview. We often inform you about the result on the same Friday, but at the latest at the beginning of the following week. Only in rare cases (e.g. for management roles) there may be a third interview. Usually, the average time between receipt of application and final decision is 3-4 weeks. Nevertheless in exceptional cases we contract employements within a few days.

Ready to go!

It is particularly important for us to point out our positive working atmosphere and a healthy corporate growth - taking into account our corporate philosophy and values. We therefore take the selection of new employees very seriously throughout the company. Anyone who starts an employment relationship with us is fully supported by the entire team and can start a new professional perspective with a strengthened back.
You're missing some information? Click here for the FAQ!
Otherwise let's get started - contact us or send your application:
Your contact person
Verena Schumann-Mühl
Head of Human Resources
Kleiststraße 10a, 01129 Dresden

Tel:

+49 351 850 33 175