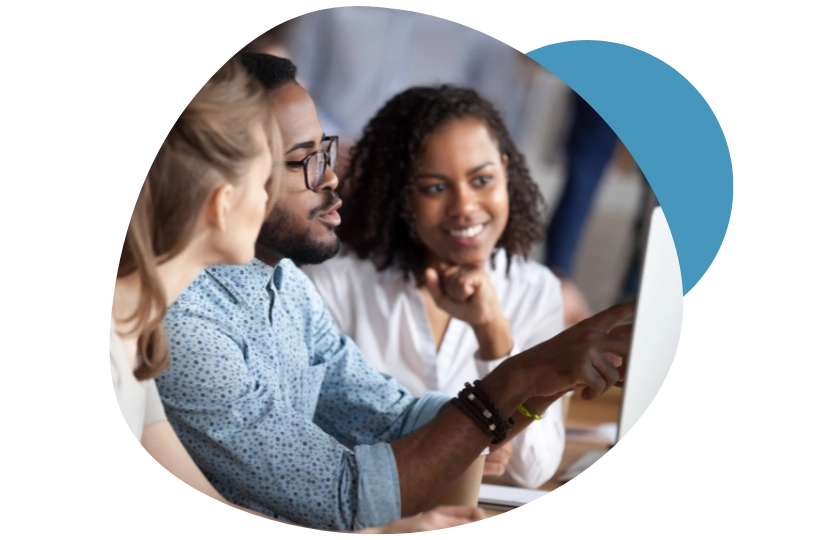 Building the Digital Workplace
Bringing teams together across platforms
Connect apps, people, and processes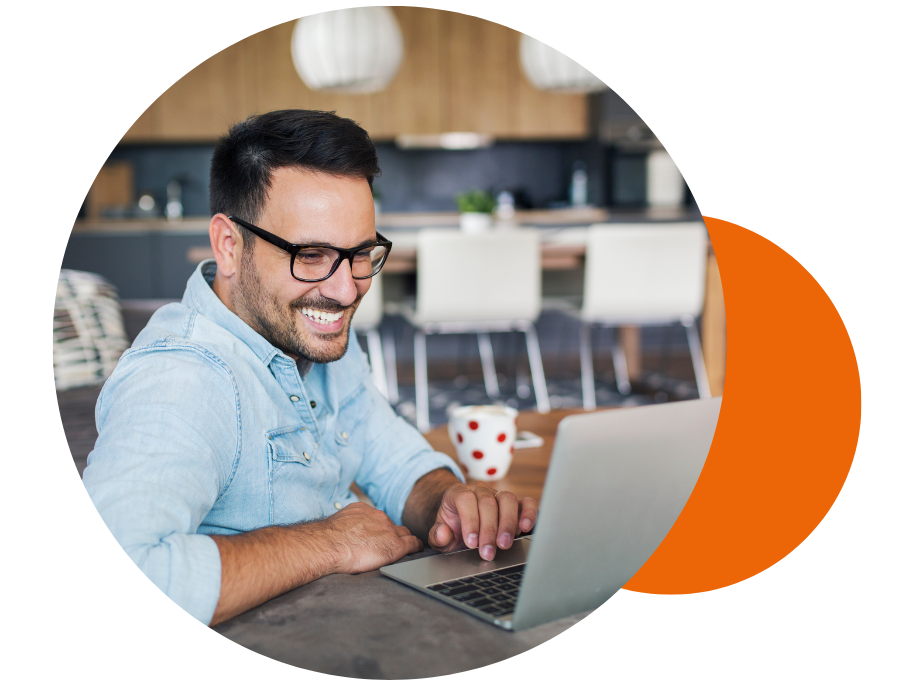 Did you know that app overload accounts for 32 days lost in employee productivity and hundreds of billions of dollars wasted annually?
The consumerization of the digital workplace has fuelled the demand for more purpose-built apps across different organizational functions. However, the adoption of multiple apps has upended productivity, as employees spend more time wading through digital workspaces than actually getting work done.
While investment in the digital workplace is crucial to enabling employees to do their best work, the sheer number of apps only adds barriers to cross-functional collaboration. Without a shared digital workspace, communication and teamwork suffer.
To connect apps, people, and processes, it's important to equip your teams with a unified platform where they can access information and work collaboratively anywhere and anytime. That's why modern intranets are the foundation of the digital workplace.
Enable the seamless flow of work across teams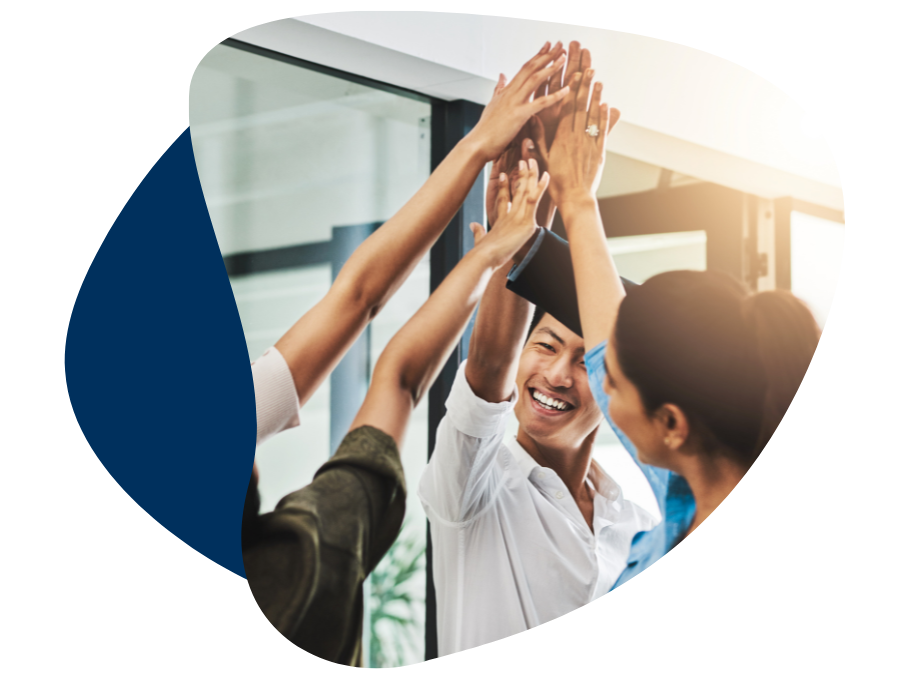 Intranet portals, think SharePoint or Confluence, increase transparency, and information accessibility. Teams no longer operate in a vacuum and everyone is now aligned around a single source of truth.
Along with intranet implementation, IT leaders are also looking for integration points across enterprise apps. Beyond information sharing, the key to a successful digital workplace is the seamless flow of work across teams.
In this guide to building the Digital Workplace: Bringing teams together across tools, you will learn how to optimize your Office 365 and Atlassian products for a unified digital workplace of the future
Digital Workplace Overview
Digital Workplace Challenges: Lost Productivity and Siloed Information
How intranets help solve digital workplace challenges
At the ground level, an intranet empowers document management, real-time collaboration, knowledge sharing, as well as content creation. More robust platforms like Confluence are capable of project planning and other business services.
Furthermore, you can integrate a variety of tools to facilitate a truly digital environment. Understanding the strengths of the two most popular intranet platforms Atlassian Confluence and Microsoft SharePoint will give you a general idea of what makes a powerful intranet.
To deliver on the full promise of modern intranets, successful transformation leaders prioritize tools that support all aspects of work, as explained below:
Building an common knowledge base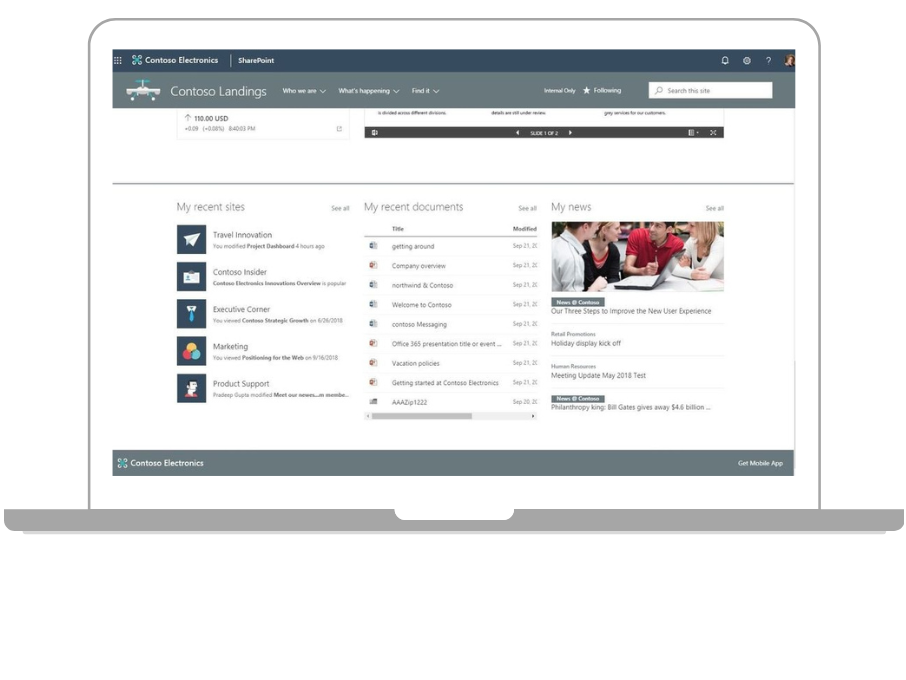 A corporate intranet should focus on managing knowledge as an asset. It is an all-encompassing platform for employees to share new ideas, co-create content, and deliver new levels of innovation.
Done right, you can exploit your intranet to encourage knowledge sharing and invite employee contributions beyond their traditional domains. Using the Wikipedia-like approach to content creation, as seen in SharePoint, your intranet is where breakthrough ideas coalesce into actionable strategies and plans.
Beyond enterprise-wide knowledge sharing, you can also expand the intranet into a public knowledge base to support your customers. Confluence, with its documentation capabilities, offers a robust platform for internal and external access to technical product information, for instance, user guides or release notes.
One of the key components of a successful wiki space is the use of metadata, available in both SharePoint and Confluence. By adding metadata to your content, you can easily structure important information and enable others to quickly find it.
Managing and Sharing Documents Across Confluence and SharePoint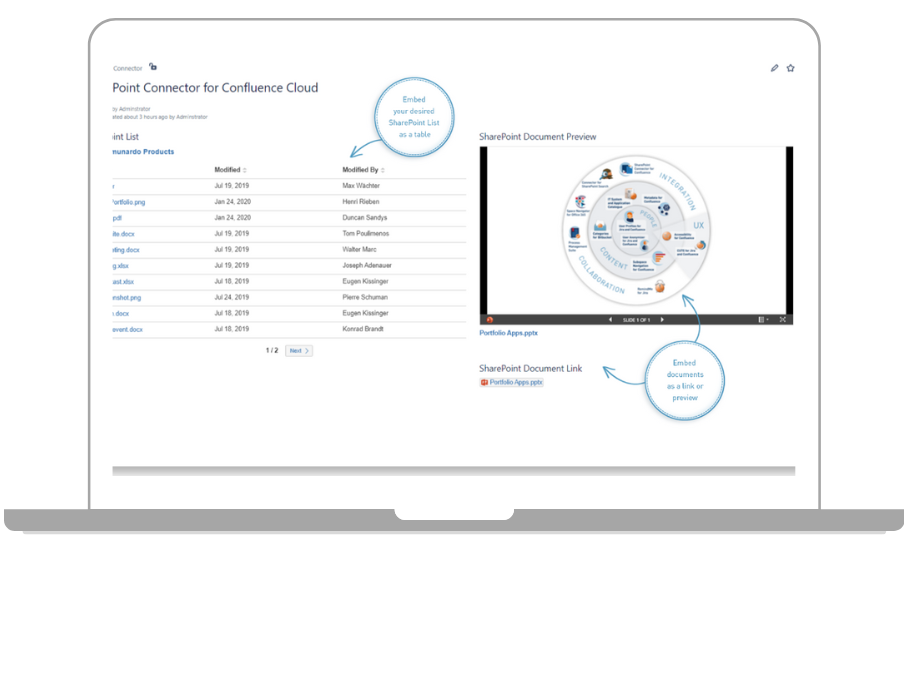 With Microsoft SharePoint, your organization can break free from endless email threads and uncontrolled file sharing. Once uploaded to SharePoint, your documents can be edited and automatically saved in the cloud. No matter when and where your team members access the file, they will always see the most updated version and track changes through the edit trail.
Outdated files can create a communication gap that directly affects the workflow. That's why we developed SharePoint Connector for Confluence. By integrating SharePoint with Confluence's content editing capabilities, you'll have a central hub for content creation as well as document management.
No more collaborating on a document through confusing email threads and uncontrolled version updates. Having a space to store and collaborate on the same work document is essential to keeping your business running smoothly.
Most importantly, all of your confidential data will be kept securely and under control. You can set permission access to the right audience, as well as audit the activity log to manage who has been viewing or editing anything.
Integrating Various Communication Channels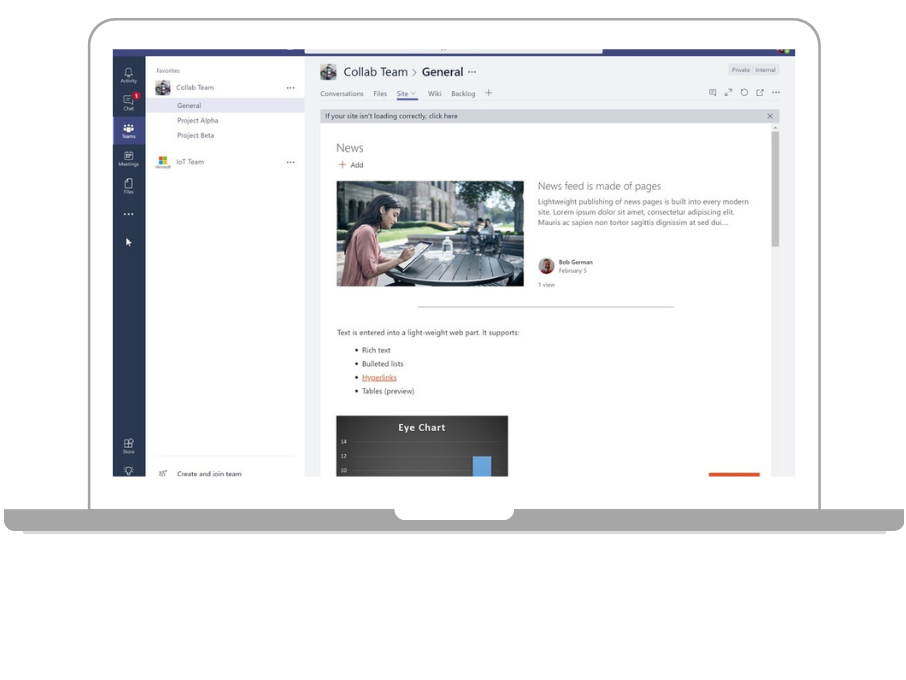 One of the core functions of an intranet is to foster peer-to-peer collaboration through both synchronous and asynchronous communication.
Simply put, synchronous channels like direct messages are great for brainstorming or when you need an immediate response. But if you anticipate that the conversation will evolve, bring it to a knowledge–sharing platform instead, so other people can jump in and collaborate. A team site on SharePoint is ideal for asynchronous communication, especially if your teams are geographically distributed.
The best part? Most intranet platforms allow integration with a third-party messaging app, for example, SharePoint and Teams, to facilitate frictionless communication. You can easily embed a SharePoint site in Teams to collaborate on a project. So, whenever you're having a discussion, your team members can instantly access the information they need without having to switch between apps.
From Intranets to Ultra Teams
The Ultimate Guide to Building a Confluence Cloud Team Workspace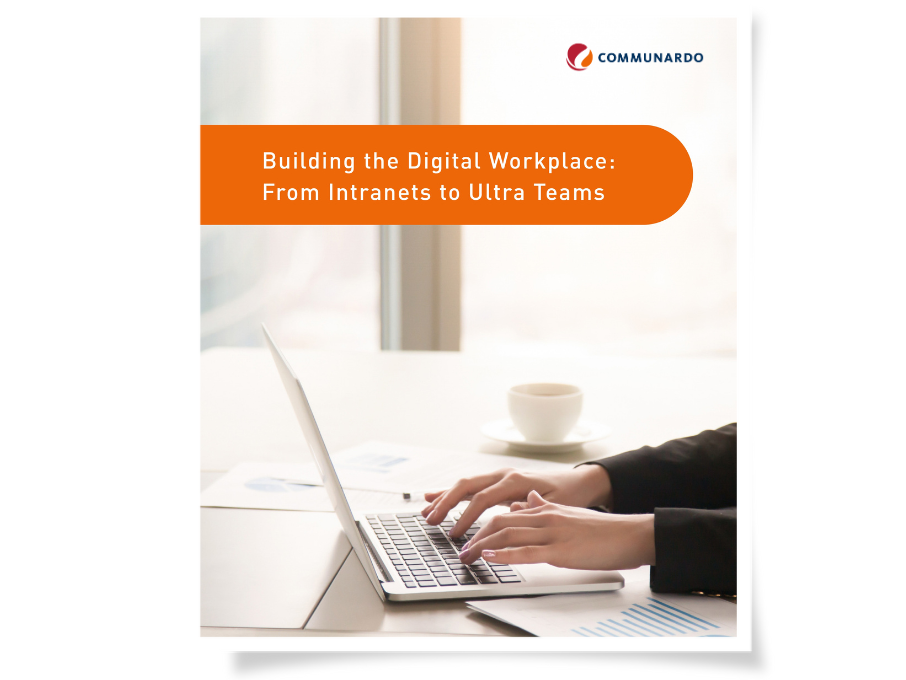 To unleash the potential of the digital workplace and drive innovation, businesses need to counter app overload and deliver a positive employee experience. There's no single app that rules them all, the key to successful digital collaboration is integration between apps and platforms that support current workflows.
The 2020s will be the decade of autonomy at work and the mainstream adoption of tools that enable us to craft our own unique workplace experience.
John T. Anderson, CEO of Smartway2 (source)
Are you ready to build your digital workplace?
Then you've come to the right place. A premium solution partner for both Atlassian and Microsoft, Communardo hosts the annual Digital Workplace Summit every year.
We're recognized experts in enterprise collaboration and software developers trusted by over 4,000+ successful companies around the world.
Ready for the next step?
Arrange a personal meeting!
Our expert Franziska Wende will be happy to take a first look at your individual starting situation together with you.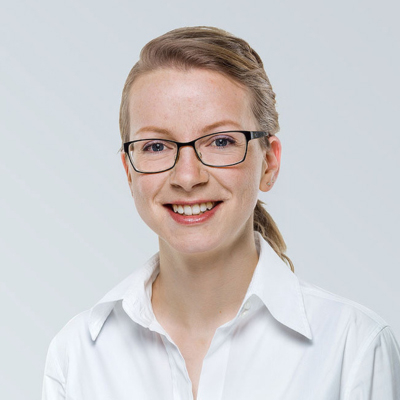 Your contact person
Franziska Wende
Team Lead Product Marketing & Sales
Kleiststraße 10a, 01129 Dresden

Tel:

+49 351 850 33 257